If you read our blog regularly, you probably already know that we hardcore heart Mindy Kaling. She's smart, hysterically funny, uber talented, adorable and generally rad. She writes, she blogs, she's been an integral part of the US version of The Office's appeal AND she's now about to star in her own prime time comedy show entitled, The Mindy Project. We can't wait.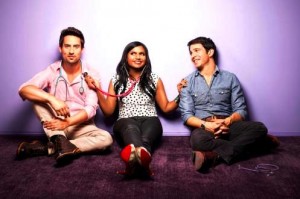 The Mindy Project will follow the life of New Yorker Mindy Lahiri, a single female OB/GYN working to find love and happiness in the Big Apple. Girl, we hear that! It's hard to say what we love most about the upcoming showing, due out on Fox this fall right after New Girl (another show we love and have written about). We are confident that with talent like Chris Messina and writers like Jeremy Bronson (one of our favorite writers from Late Night With Jimmy Fallon) this show is going to be a weekly must-see. In the meantime, here's a look at the trailer and a list of our current favorite things that we know so far about The Mindy Project.
Trailer:
Favorite Things that we know about The Mindy Project:
1. Mindy has a job, a real badass job.
2. Mindy likes sequins and stealing champagne from weddings. Awesome.
3. Mindy has an awkward ex-boyfriend who also happens to be played by Bill Hader. Win.
4. The cop who arrests Mindy (after she rides her bike into a swimming pool and is charged with disorderly conduct) states "when you are disorderly, you are a rapist of peace and quiet". This seems like something that would happen to us.
5. Mindy falls for a douchy British guy, which looks like it will be an emotionally tough road. Bad news bears. We relate!
There will certainly be many more items to add once the show premieres in the fall and excited to watch. Congratulations to Mindy!
Xo
SFAR
To learn more about The Mindy Project: Click Here
To read other SFAR posts on Mindy: Click Here