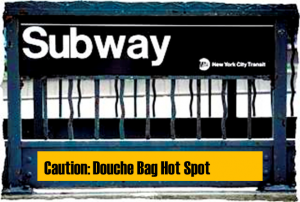 You know that feeling when you arrive on a subway platform, perhaps one you don't frequent quite so often. You look around and think to yourself, "Oh great. A douche bag hot spot. They're everywhere!" Yes, we have the same thoughts. As such, we'd like to undertake a group survey courtesy of Skinny Scoop to see where exactly you all think the douche bags congregate. We will start with the subway system of NYC, our home city and the site of so many unfortunate co-ed encounters.
Cast your vote below!
Have we left out any obvious ones? Leave your comments below.
To check out Skinny Scoop: Click Here