So, this sucks. Kat Von D., the tattooed television star who made headlines for breaking up Sandra Bullock and Jesse James' marriage, has had some sad news of her own this week. She and Jesse are no longer engaged to be married. Wahh Wahh.
Well, what's more noteworthy, for the rest of us, is the glaring reminder of her ex, who is tattoed (literally) on her body. This event was captured on her reality TV show, "LA Ink", sometime this season. You can view the image of what we presume to be young adolescent Jesse in the photograph below.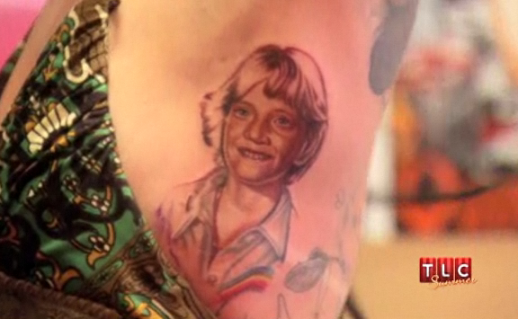 A few comments…
#1: Whoever would give this half-baked french fry a television series has lost their mind. Who watches this??
#2: Kat Von D. and Jesse James were a disgusting couple from day 1 and an awesome reminder of what you should always avoid becoming. Good riddance to their union.
#3: When we say, do not get a tattoo of your boyfriend/girlfriend/fiance on your body, we mean DO NOT GET A TATTOO OF YOUR BOYFRIEND/GIRLFRIEND/FIANCE ON YOUR BODY. In addition to being creepy and gross, you're asking for trouble down the line.
#5. For people who fail to take this advice, get the tattoo anyway and later regret it, your punishment should not only be the physical image of your ex inked on your body, but having to watch this clip over and over again.