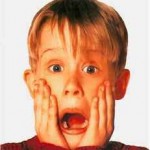 I recently decided to get back into online dating, despite the fact that the first round had not led to great success. Maybe it was boredom, maybe it was masochism, or maybe it was the social pressure from everyone I know, including my THERAPIST, asking me "why are you single? Why don't you date online?" that led to this act of desperation. I was extremely wary in the beginning, but my unease soon wore off as I became pleasantly surprised by the number and quality of messages I received.
Ego full and head high, I set up a date with the most reasonable-sounding person who had contacted me and headed to my first date with what I will from now on recognize as an ominous "good feeling."
This person and I had immediately connected online over our somewhat silly enjoyment of the movie "Home Alone." So, when I discovered via a Gothamist item that the film's star, Macaulay Culkin, had grown up to be a weird adult who hosts monthly "iPod parties" at Le Poisson Rouge where he plays music from his iPod and gives everyone hugs, and that the next party was scheduled for the very night my date and I had agreed to meet up, I was super stoked. I forwarded the Gothamist link to my date and said "maybe we should do this on Thursday!"
His response was less than enthusiastic. "Funny story about that video," he wrote back, meaning the video in the link featuring footage of Macaulay Culkin hugging partygoers. Kind of a strange reaction, but I didn't think too much of it until we met up for our date. As we were walking to Benny's Burritos (FYI – not a great first date spot), he told me his "funny story" – he had spotted his ex-girlfriend in the video. And not just any ex-girlfriend. Although the situation didn't warrant it, he launched into the dramatic backstory of his failed relationship, including the part where she developed an eating disorder after they broke up and told everyone (including the college administration and her father the DA) that he had caused it by being physically and psychologically abusive. The color guard in my head started waving a big red flag with great panache. We hadn't even reached the restaurant yet. This is where I should have dived under a manhole cover, but having been exposed to too many Disney storylines as a child I thought "there must be some other explanation" and "everyone deserves a chance" and "a dream is a wish your heart makes." So we went ahead and ordered our burritos and things went pretty okay for the next hour or two. There is a subplot involving some fake glasses and teeth he brought from home, but I'll spare you, dear Reader – suffice it to say that if you feel you need to bring props along on a first date you might want to take a deeper look into your insecurities.
As the hour of Kevin McCallister's party drew near, I reassured my companion that there was no need for us to attend if he had any qualms about running into his ex. No, he insisted, she may have gone to one party a few months ago, but what were the chances she would be there again tonight? And we didn't want to miss our chance to get hugs from Macaulay Culkin! So to LPR we went.
Immediately upon arriving, we ran into a friend of his from college, and GUESS WHAT? His ex would be there soon, and the party that night was in HER honor! Apparently she had been to enough of these iPod parties that she and Mac had become best buds. She would be leaving New York soon and this was her official farewell party.
So what did we do then? Leave? Run out of the club like we were catching a flight to Paris? Set an elaborate series of crude obstacles throughout the venue to stop his ex and Joe Pesci from getting in? No. In his words, by staying and seeing her he was "being the bigger person". I wasn't sure where this left me, so I ordered another vodka and looked for a former child star to embrace.
Luckily it didn't take long before she showed up and disaster ensued. While I was busying myself at the bar (read: closing out my check), he approached her and was apparently met with a one-finger salute. This FINALLY convinced him that it was an appropriate time to leave, and as we did we were followed by an aggressive associate of the ex who basically told us to get our ugly, yella, no-good keesters off the property before he pumped our guts full of lead. I tried to explain that it was just a coincidence, it was a public event and we didn't know she would be there, but he didn't buy it. He was so rude and abrasive to me, and my date did so little to defend me, that I started crying and ran outside. After a few minutes (not immediately, a few minutes) my date came to find me, but not exactly to apologize.
He described his ex as a "drama queen" and told me not to worry about "those assholes". He took no responsibility for his decision in us going to LPR or staying there – "I just went because you wanted to go." By now the color guard had unfurled a giant flag of deep crimson covering the entire football field of my brain. Through my tears I thanked my date for a lovely evening and hailed a cab home.
Net result:
Hugs from former child stars: 0
Eating disorders: 0
Good dates from online dating: 0
Good stories from online dating: 1
SFAR