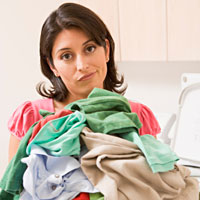 I had gone on a couple of dates with this guy, and we seemed to hit it off. Then he got "busy" with work for quite a long time, which made me think he was just not interested in me anymore.
A little bit of time passes, and he actually suggests meeting up on Thursday if he finishes work early, or Saturday. When Thursday gets swallowed up by work again, I said "no problem, so Saturday?" to which he repleid "Yah I'm not so sure about that anymore, I have to go home (i.e. to his parents house) to do laundry."
In other words, this guy cancelled a date to go home and have his mommy do his laundry for him. He is also 24 years old. Time buy some Tide and get your priorities straight!