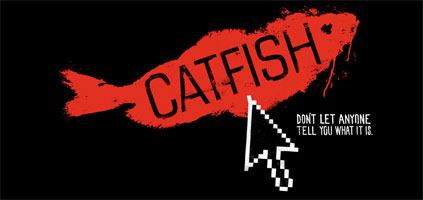 According to Urban Dictionary, a catfish is someone "who pretends to be someone they're not using Facebook or other social media to create false identities, particularly to pursue deceptive online romances."
To understand the full meaning of the term, I recommend watching the (incredible) documentary "Catfish" by filmmaker Nev Schulman. His documentary serves as the inspiration for MTV's "Catfish: The TV Show" which also stars Schulman.
"Catfish: The TV Show" had been mentioned to me by some female friends in grad school and I was immediately interested. As soon as I had the chance, I sat down and powered through two episodes. Despite knowing the premise and having been an early fan of the documentary, I too was bowled over by the show. It's even more poignant and timely than I anticipated.
Have I been catfished? No, not to the extent that the characters on the show have been by any stretch of the imagination. Have I been courted by people who I later found out misrepresented themselves on social media? Absolutely.
Isn't part of modern-day dating sleuthing to find out whether the persona projected by the person you're crushing on is true? Feels like it sometimes.
To read more about "Catfish" the documentary, Schulman and "Catfish: The TV Show", click here. Watch the trailer for "Catfish: The TV Show" below.
If you feel that you have been deceived by a catfish and would like to be considered for the show, check out this casting call and send in your info. The team is currently casting for season two now.
And above all else, WATCH OUT FOR CATFISH!!
Xo
SFAR