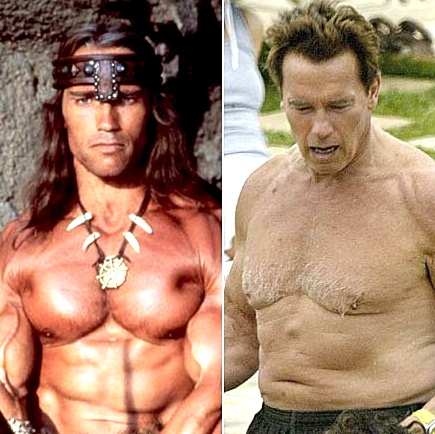 This should come as no surprise. While there were several candidates vying for this week's DOTW, the news about Arnold Schwarzenegger's adultery, love child and string of lies give us no choice but to deem him Douche of the Week.
You may remember a post we published last week, after the news about Maria Shriver and Arnold Schwarzenegger's declared separation hit the US news waves. We were shocked to learn of this development. Blinded by the years he'd spent parading around as the "Governator" with his loyal family in tow, plunging the State of California into a terrible deficit, we'd forgotten about his inappropriate tendencies. After the latest news, it's safe to say, we'll never forget again.
Schwarzenegger announced Monday night that he had fathered a child with a household staffer over a decade ago, before he was elected as California governor. That "household staffer" was identified this week- Patty Baena, housekeeper for the Schwarzenegger family for 20 years, and mother of their love child. The 50 year old Baena retired from the Schwarzenegger household in January.
"After leaving the governor's office I told my wife about this event, which occurred over a decade ago," Schwarzenegger said in a statement issued to the LA Times this week. "I understand and deserve the feelings of anger and disappointment among my friends and family. There are no excuses and I take full responsibility for the hurt I have caused. I have apologized to Maria, my children and my family."
What Schwarzenegger doesn't seem to realize is that an apology isn't enough, and further, that he has more to apologize for than a secret extramarital affair and child. He owes at lease 8 years of apologies for being a complete fraud and charlatan on an extremely public stage.
It is amazing to us that Arnold was ever elected to office- it does not say much about American's ability to spot a phony in a political line-up, but that's nothing new. What is beyond ridiculous is that he was re-elected, despite rumors that Schwarzenegger had skeletons in his closet- namely a love child (yes there were speculations about this long ago) and a myriad of allegations that he had groped and molested women during his years as a movie star. His  dutiful wife, Maria, stood by his side throughout it all- fiercely denying all allegations, and helping Schwarzenegger to secure reelection.
We are sorry, Maria, that Arnold did not keep his hands to himself. His actions were despicable and cowardly, not to mention COMPLETELY contrary to the "sanctity of marriage" rhetoric he preached to his constituents. With all the testosterone fueling through his oversized bod, in a way we are shocked he hasn't been busted for these issues in the past, but then again, he's made it very clear he's excellent at keeping shady secrets.