Once upon a time I took a road trip with my girls to celebrate the graduation of one of our friends, let's call her Mary, from our college. We set off in her SUV toward the location of her choosing: Vermont, which in late May was going to be gorgeous and full of fun. Four single girls looking for fun, we were committed to having a great time on an old-school New England road trip.
One of our first nights out we met two handsome guys who were visiting Burlington, VT for the weekend from NYC. Mary and I got to talking with them and instantly hit it off. Before long they were wooing us with their charm and humor, and of course also lots of alcohol. The story they were presenting was too good to pass up- they were best friends, older men who appeared to have their acts together in NYC, a city Mary and I were soon planning on moving to. They were single and totally available- and more importantly they were hilarious and charming. We were hooked…
The next morning, I woke up in the local Burlington Econo Lodge with the guy I had fallen for, let's call him Chester, snuggling next to me in bed. Mary was in the next room over with her guy, let's call him Phil. (We stayed in this local Burlington hotel spot because the guys were staying with one of their families and we we sharing a room with our other friends. Mary knocked on the connecting door to collect me and before you could knew it the four of us crazy kids were off to brunch. Mary and I thought the whole scene was hilarious and couldn't believe our good fortune meeting these great, eligible and fun guys who were just ready and waiting for us in the big city of Manhattan. In fact, they were so openly smitten with us and effusive, they kept saying how great life was going to be and that maybe one day we would come back and have a double wedding on Lake Champlain. Not kidding. Of course we didn't really believe that, but they said it nonetheless. And it was fun to discuss. We chatted over brunch and enjoyed in getting to "really know each other".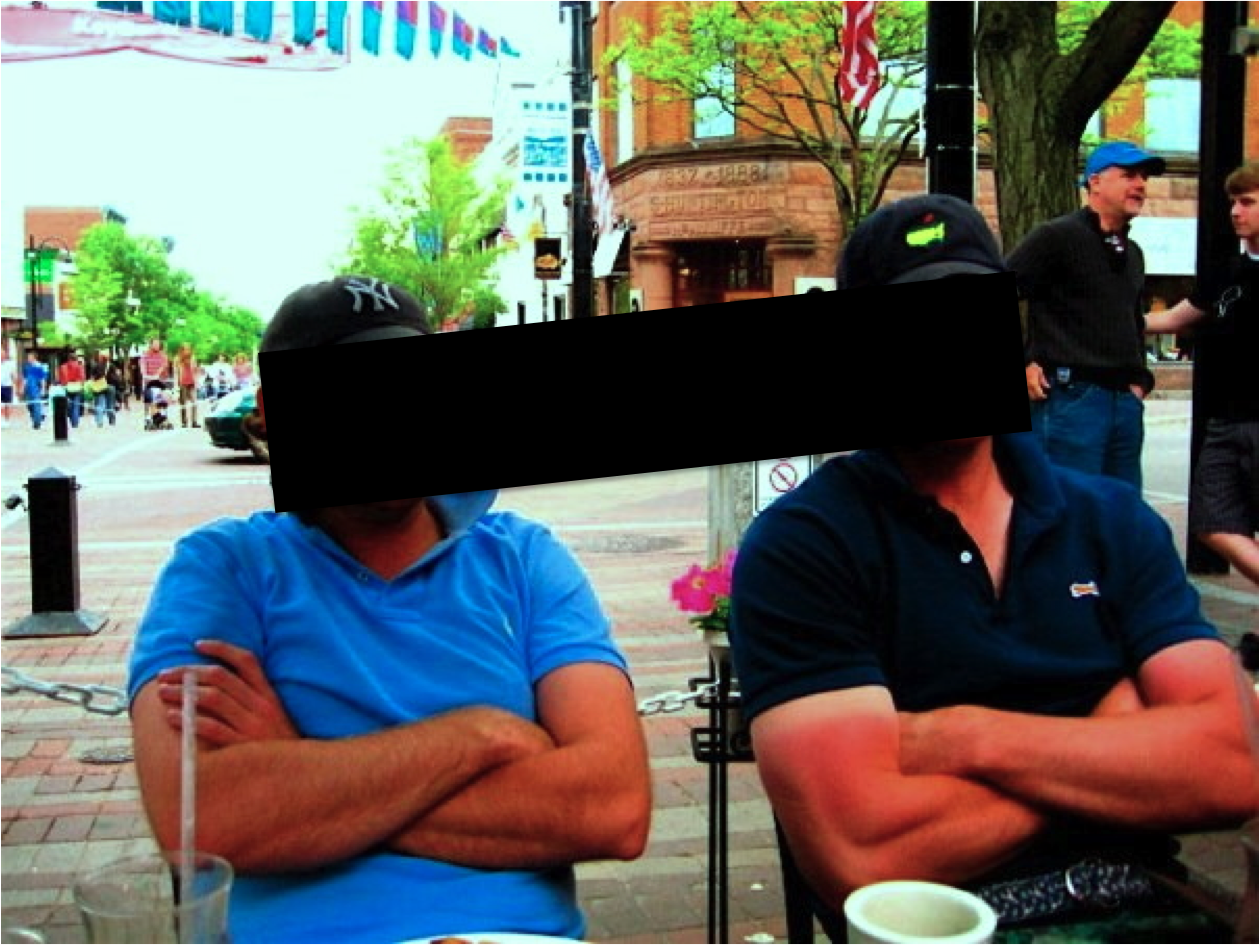 Fast forward two months. I arrived in NYC so excited to finally meet back up with Chester. We had spoken consistently since late May and now would be in the same city and able to live it up and have a great time. I was so excited! He and I made plans to get together one night, one of my first nights at my new job in NYC. I wore a great dress and felt on top of the world. This was going to be the beginning of something awesome! We had a fun night of cocktails and catching up, followed by great sex.
Now the whole time between Vermont and moving to NYC, I communicated with Chester (and Mary communicated with Phil) on a nearly daily basis. They were always sending cute messages, wanting to be in touch, planning the next time we would get together, telling us each about their jobs and business travel. In fact we did see them a couple of times when we moved to NYC, but the facts of the lives they had told us about in Vermont quickly started seeming fishy.
The apartment Phil said he had in NYC suddenly didn't exist, and instead he lived in a house in CT that was under construction to the point that Mary was not allowed to see it. Odd. Chester and I would text and he would make it seem as if we were going to get together on the weekend, and then all of a sudden he'd be "out golfing in CT" with Phil, or unexpectedly on business in Chicago. It all seemed super strange. Increasingly, Mary and I felt we had been lied to. She and I would discuss our correspondences with them at length, questioning what they might be lying about, yet always wanting to give the benefit of the doubt and trust what they were telling us.
You know that moment when the blood rushes to your head and you are suddenly instantly clear that you've been cheated on/duped? Well, that happened to me with Chester. When it became clear to me that Chester had a girlfriend I told him off over Blackberry Messenger telling him what a deceitful asshole he was and that he was a complete charlatan. He made some lame apology and that was it.
Mary and I ran into Phil once not long after that and got the chance to give him a piece of our minds in person. Mary had found out that Phil had just recently broke up with his "model" girlfriend and had to give her the "Gramercy apartment" they shared, so he was living in the shack he was fixing up in CT. Eventually, we got over it, moved on and met new people. Though that's not to say the process was easy- we both absolutely felt used, lied to and hurt. They had made up a story about us getting together and dating in NYC, which was clearly all a big, fat rouse finessed to a painstaking degree.
About a year later, I was standing at a bar downtown when I looked over and saw two ghostly figures. I couldn't believe it- Chester and Phil. What were the odds? Chester approached me with a big cocky grin on his face and tried to be sweet as apple pie. Oh my, it was truly unbelievable. He attempted to apologize and tell me how great I looked. He explained that he had had a girlfriend back then who was really controlling and he was sorry for his actions, but he didn't know how to handle it. Then he admitted they were still kind of together and yet proceeded to try to hit on me. I was so icy cool, I gave him nothing. He acted dumbfounded- and old- and lame. I walked away feeling glad the experience with them had not gone farther and thankful that despite the heartache, I had nothing to do with these lying assholes. Mary and I were young and naive when we felt for their stories- we were optimistic and believed they were telling the truth. Sadly we didn't realize how many complete liars there are in the world.
If you ever encounter them– they are extremely preppy and great liars- ladies, run the other way.
SFAR