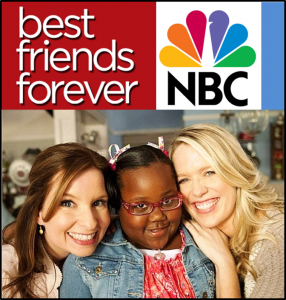 A new show has hit NBC's Wednesday night line up by the name of BFF or Best Friends Forever. Before you make any assumptions about the show (what, it's about BFFs?), let us skip to the lead and tell you it's awesome. Written by and starring Jessica St. Clair and Lennon Parham, the show follows the best friendship of two awesome chicks when one of their marriages ends in divorce and she's forced to move in with her best friend and live-in boyfriend.
In addition to following an awesome and relatable story line, the writing and humor incorporated to the script of this show is hysterical. We at several points in the first three episodes (which we watched twice each) found ourselves laughing out loud.
It's exciting to see Lennon Parham and Luka Jones on a primetime show. We know them from their work at New York's Upright Citizen Brigade, where at least for us, Lennon is legend.
Sassy pants tween neighbor Queenetta, played by Daija Owens is one of our favorite reappearing cast members. She offers the blunt, sassy girl perspective from a stoop chilling mini diva. She's hilarious.
All in all, the show is a wonderful addition to some of our other faves on TV. Smartly written and executed, the storyline incorporates real-life character plots (for example, committed female friendship, a co-habitating couple in no rush to get married, and a thirty-something coming to grips with a divorce). How refreshing it is to watch a show where women are of a realistic age and circumstances- their lives are relatable, believable, funny, and relevant.
Tune into BFF on NBC Wednesday nights at 8:30 EST. This wonderful addition to weeknight TV definitely has our SFAR stamp of approval!
To learn more: click here