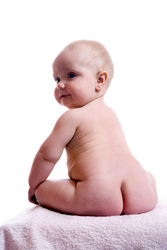 I was heading home with a guy I had met a weekend before at a party, where he had seemed charming, confident, and quirky. I was even more excited that he had actually called, like he said he would! But my elation was short lived.
When we got to his room, I suggested we jam, because we both play guitar and sing. His set-list started off with an acoustic interpretation of "cooler than me", which I tried to accept. He told me he mostly enjoyed playing pop-punk (think My Chemical Romance), but even though I balked, I didn't turn tail and run.
Instead, we started making out, and soon clothes were removed. His poor music taste was far from my mind, and I started to think that this guy could have potential-when i realized…he was completely shaved clean down there. Bare. As my friend says, "bald as a baby's bottom". Prickly razor burn just does not scream sexy and masculine!
Afterward, as we were getting dressed, he mentioned to me that he and his parents breed and compete show dogs.
He didn't walk me home, the douche, cementing his status as only a one time stand.
As always, SFAR