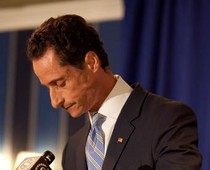 What's that thing they say about news? It's new. We know. However, while we have hesitated to write about this scandal, we feel it is too significant a story in US and New York politics not to acknowledge it. Moreover, it is yet another perverse and sad indication of the state of committed relationships in our culture. As it seems we have a moment of calm, we'd like to take a moment to reflect on this story.
The Weiner Twitter Scandal
For those who are unaware, approximately 3 weeks ago, a married Democratic Congressman from the State of New York accidentally tweeted a lewd picture to all of his followers. The photo, which was intended to be a private tweet to a young woman, featured an "over the boxers" picture of his erect penis. The name of the (now former) Congressman is Anthony Weiner. That is not a joke- it's an awkward coincidence. A young favorite by some in the Democratic party, he was immediately attacked by bloggers and pundits of the Republican party, as New Yorkers held their breath to see what would happen next.
Initially, Congressman Weiner claimed his Twitter account had been hacked, but it was only a matter of days before other photos came out which revealed that Weiner was in fact interacting with and sending pictures to young women he was connected to through Facebook and Twitter. In one picture, you can see him relaxing at home in his den with his cats, smiling into the camera. "Me and the pussys", he emailed. In another set of pictures, he is flexing his shirtless chest in the Congressional gym. It was that set of pictures that caused many in the Democratic leadership to aggressively push for Weiner's resignation.
When the scandal broke, one of our first questions was, "Why is an elected official spending time on Facebook in the first place?? He should be working for the benefit of his constituents and not tooling around like a weird high school boy." Gross. Terrible.
And then, as we sat back and analyzed all the reports, looked at the photos and thought about the fact that his behavior- sending soft core porn pictures of himself to women he had never met and presumably had no plan of meeting- revealed the human beneath the actions: an emotionally stunted, deeply immature, insecure, narcissistic man. Whether out of a quest for attention, loneliness, or WHATever, Weiner was living a virtual life outside of and in contradiction to his very public duties as an elected person, and carrying on in a way incongruent with the vows of his marriage. As we continued to learn about his behaviors, and the people impacted, the story became sadder and more upsetting. There were more pictures, more young women. One of the young women is in high school, another is a porn star. And then the bombshell, his young wife, Huma, is pregnant.
Married for 1.5 years to the Congressman, Huma Abedin has been a rising star within the U.S. State Department, and most recently served as chief aide to Secretary of State Hillary Clinton. We first learned of Abedin several years ago, when Vogue included an article and photo spread on her as a rising power woman in the U.S. We were enchanted and instantly admiring of her ambitions, intelligence and beauty. To see her now, it's like a ghost of her former self. What happened to that independent woman? Was she always just aiming for notoriety? If so, it seems she's achieved that, though through unenviable circumstances.
It has been widely reported that Secretary Clinton and Former President Bill Clinton were instrumental in bringing together Weiner and Abedin as a couple. The Clintons have also been highly involved in pushing Anothony Weiner as a young democrat in the Party, touting him as the next probable Mayor of New York City. In fact, Weiner and Abedin's wedding was not only attended by both of the Clintons but officiated by Former President Clinton. You will recall his own sordid sexual scandals during office which lead to a very public investigation into his behaviors, most notably, with 22 year old intern, Monica Lewinsky.
This does not seem like the person we would want "blessing" our marriage.
You have to step back at a point and ask yourself, were these their role models, Weiner and Abedin? Were they looking at Bill and Hillary Clinton as a model couple? Had they already separated themselves from the notion of love and commitment 18 months into their union?
After formally resigning from Congress, Anthony Weiner took Abedin to the Hamptons to get away from the media frenzy. Thursday, it was announced that Abedin was taking a sabatical from her position at the State Department, as Weiner began a stint at an unidentified clinic for sex rehabilitation.
He is yet another in a long list of disgraced public officials in the US, who seem to increasingly be using social media in their antics. Earlier this year we wrote about a newly elected Republican Congressman, who, just weeks after being elected, resigned after lewd photographs of him were identified on the 'personals' section of Craigslist. He too, was married. And just this week, a Louisiana City Councilman has come under brief media scrutiny after it was discovered he sent a picture and had an inappropriate relationship with a fellow city worker.
Where did guys get the idea that women like receiving pics of them in their under shirts? Where did men get the impression that women like receiving "lewd" text pictures at all, for that matter? Wherever it started and whatever the root cause, we hope Weiner and similarly afflicted individuals get the help that they need. And in the meantime, that he and others do their constituents a favor and keep narcissism off the ballot.
The Bigger Issue of Sexting, Et. Al
As married politicians are exposed doing this- individuals with extremely hectic travel schedules, voting responsibilities, 24/7 media scrutiny and constituents to represent- we need to acknowledge the fact that "average guys" are committing similar transgressions in shocking numbers. Some people want to attribute Weiner's behavior (like Tiger Wood's behavior, etc.) to high-stress public, positions. 'He behaved this way because he was in the public eye from such a young age- because he was a Member of Congress', but in fact, people like Weiner and Tiger Woods are exposed only because they are in the spotlight. It's the "average guys" who don't have to face the scrutiny of a nation.
An article in the Huffington Post this week examined attitudes and behaviors of Americans relative to online relationships, sexting and physical cheating. Some of the findings were pretty shocking.
"When we asked people in a committed relationship, "Have you ever flirted with somebody online (chat room, Facebook, email, etc.)?", overall 46 percent said yes, and there was no significant difference in levels of flirting by age. There was, however, a significant difference in the levels of flirting broken out by gender. 51 percent of men, versus 41 percent of women, admitted to flirting online."
Based on the submissions we receive at SFAR and our own real-life experiences with men, we believe these numbers to be accurate. And conservative, if anything.
Just because "average guys" (and "average women") don't have bloggers tracking their every move and mis-step, does not mean they are any less guilty of sexting and conducting inappropriate online relationships. If the Weiner story shows us anything, it's that he is a man with problems and weaknesses just like any other man. Before we walk down the path of berating him, we should work to address the fact that this seems to be such a widespread issue in our society and, for many, fractured the notion of commitment in modern-day relationships.